Registering Bitdefender 2.0 for MS SharePoint 2003
The product is delivered with a trial registration key valid for thirty days. At the end of the trial period, if you want to purchase the product you have to provide a new serial number.
To modify the default serial number, click Register from the user interface (Bitdefender Information section).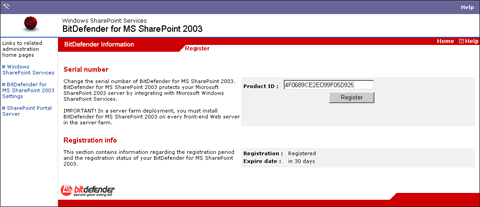 The window offers information about the status of the product (registered or not) and the expiration date. To register your product you must first type in the license key in the Product ID field. Click Register to finish the registration process.
In the Register section now, you can see the expiring date of the new license key.